Sites That Pay You To Blog
Writing paid post is often the most preferred ways to earn some bucks from blogging. The way pay post runs 
hasn't
 changed much; after having mutual agreement with advertisers, you write about them, they pay you $$$. And if there is a 3rd party involve, they take comission. Most agent company provides marketplace for advertisers to look for publishers, vice versa.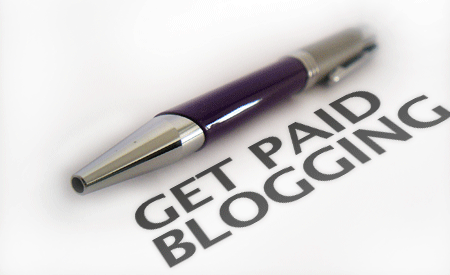 If you firmly believe that writing pay post is one good way to revenue from your blog, here's a list of web services that pays you to write for them. This list will be updated periodically, so if you have a paid post service I've missed out I'd like to add them to the list. Necessary credits will be given.

Earn cash by writing honest reviews about our advertiser's products and services. Write reviews in your own tone and style, and gear them to your audience's interest.


Unlike some other services, we pay our Partners up to 70% for each LinkPost written. Access to thousands of advertisers hungry for reviews. A variety of payment options. Receive payouts monthly by check, PayPal, direct deposit, or Wire. Automated advertising management. An easy way to sell paid blog posts.


Get paid ₨1,048.18 – ₨10,481.79 to review products and services on your site. You control what you review.


The more abstracts you post at Shvoong, the more chances to attract readers. Create link to your abstract elsewhere(on blogs, forums, your personal homepage, or other sites). Spread the word by joining our "Invite a friend" and/or "Affiliates" programs, and earn bonuses equivalent to the invite members' royalties, upto ₨5,240.89 for every new writer.


Get paid for blogging. Write your opinion about peoples products, services and websites on your blog. Get paid weekly.


PayPerPost is an incredible new self-service marketplace that allows you to get paid to blog about the products, services and websites you love. You can easily earn ₨26,204.47 per month or more with your current blog!


All About.com Guides are freelancers who work online and set their own schedules, giving them the flexibility to log on from anywhere in the world whenever they have the time. With no timesheets to fill out and no timecards to punch, working for About.com gives you the flexibility to write when you want, even if you have a full-time day job.


So here's how it works:

You create an account with us.

You create an account with Google Adsense.

You login and write content to your "blog" on our site.

You try to write as often as you can.

We publish your content to our site.

We serve ads on the pages that have your content.

Half the time you make money on the ads. Half the time we do.

Blog Feast (Service Discontinued)


We are a blog community that:
Provide you with readers and traffic
Serve your Adsense ads 90% of the time
Helps you to make money blogging
Leading you step by step to earn 

₨52,408.95

 a month!
Source:
http://www.hongkiat.com/blog/sites-that-pays-you-to-blog/
552 total views, 1 views today